"Once you gain a dog's trust, what you can teach is limitless!"
– Steve Says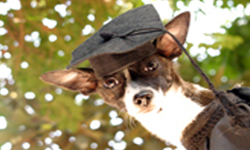 Steve Brooks' philosophy of "dog training for the real world" holds that every dog should know real life manners, dog training should be a part of everyday life, and most of all, it should be fun.We use reward-based training. There is no yelling, jerking or aggressive handling. Our training techniques are fun and creative.

"Like people, all dogs are different. They all have histories that influence behavior." Steve Brooks K9U practices customized, Reward-Based Training with a goal of teaching dogs a solid foundation of life saving Dog-mandments that make your dog a well-behaved member of the family. Dogs learn to come when called, walk without pulling, sit and stay, even with huge distractions and obey because they want to without the use of force. Whether your dog needs basic training or behavior modification for more difficult issues, Steve Brooks K9U has the experience to help you and your dog.
STEVE BROOKS K9U GUARANTEE: After even one lesson, you will communicate with and understand your dog better, and your overall relationship with your dog will improve. See testimonials.
Discover how to prevent behavioral problems before they occur

Fix a problem with effective Reward-Based tactics; harsher methods may just be a Band-Aid that creates distrust towards humans

Learn how to read your dog's body language and use your own to communicate effectively!

Teaching tricks can actually help curtail behavior problems

Discover how to become the right kind of "human" role model for your canine and practice real-life manners every day with ease!

A solid foundation of behavior can save your dog's life!
Stop the behavior problems! Call today for a free consultation and K9 behavior assessment.