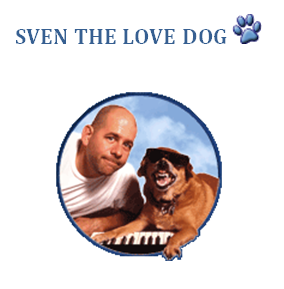 Steve Brooks moved to Nashville 20 years ago to become a professional drummer, but on his very first day in "Music City" fate intervened. As he drove along a dirt road in front of Hank William's house, he saw two girls walking on the side of the road in tears… They'd just witnessed a puppy being thrown from a moving car. The girls handed the badly-injured pup to Steve, who discovered that "Sven" was aggressive and untrusting towards humans. Due to his unpredictable temperament; a veterinarian recommended that Sven be "put down".
Needless to say, with Steve's love and training, Sven not only grew into a happy, healthy member of the family, he became a celebrity canine! Some of Sven's talents included playing piano and guitar, turning on appliances, fetching a beverage from the refrigerator, and saying "I love you." Stealing the spotlight from Steve's TV appearances, "Sven the Love Dog", Steve's four-legged soul mate, became the inspiration for Steve Brooks K9U, allowing Steve to find his true calling.
Sven's talents were featured in issues of BARK, Fido Friendly, and Animal Wellness, and on television shows including: Dogs with Jobs, (National Geographic) You Lie like a Dog, and Pet Star (Animal Planet) with his appearance on Animal Planet's Funniest Animals receiving a nomination for the Blue Ribbon Viewer's Choice Awards' "Best Musical Clip".
Steve and Sven collaborated on K9 Fusion (2002), featuring the music video: "Who Really Loves You?" with Sven singing lead vocals and playing all the instruments—except, of course, the drums, which Steve handles with great finesse. Sven passed away in 2005, but Steve continues to honor Sven's legacy through Steve Brooks K9U and a documentary K9 Fusion about his life just aired at the American Documentary Film Festival in Palm Springs, 2013. Click Here To Read More!